People often tend to run out of space in their homes. It's true even for those who have large properties.
Places tend to get cluttered quickly, and you might think that you need to have even more space.
Sometimes, that might be true. However, the first thing you want to do is think about how you can make the best use of space in your home.
Below are a few simple things you can try. These can prove to be quite helpful no matter the size of your home.
Open Up the Entryway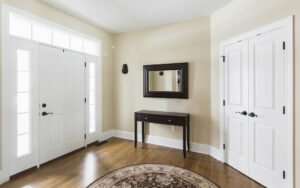 When you enter the homes of many people, the entryway is overwhelming.
There are shoes everywhere, backpacks by the door, and generally a lot of overall congestion.
While these items can be in the entryway, you have to store them properly.
Get hooks for coats and bags, have some open shelving for other items, and perhaps a bench with a storage area for shoes and other items.
This can help to keep things where they belong, and it looks better than just having piles near the door.
Better Organization in the Kitchen
The kitchen is one of those spaces that need to be properly organized, so you always know where different items are located. Consider adding some new cabinetry or a pantry.
You could also add some hooks and shelves to the wall for mugs, glass canisters of pasta or cereal, etc.
Install overhead storage for pots and pans, too. This can help to free up some of your space below the counters.
Under the Sink Baskets in the Bathroom
It can often seem hard to find extra storage space in the bathroom. However, a little creative thinking can help.
You can get small baskets that you place on the inside of the sink cabinet doors.
This can provide some added storage space, so you don't have clutter on the top of the sink.
It can also keep the medicine cabinet from getting overly full.
Use Multifunctional Furniture with Storage Space
You will find that using multifunctional furniture that has added storage space will be a fantastic solution for many rooms of the house.
A sofa, coffee table, or ottoman might have extra storage space for example.
They could hold remote controls, games, books, etc., so they aren't just cluttering the living room.
There are plenty of different types of living room furniture available with storage options. There are even beds that have drawers beneath them.
This can eliminate your need to have a dresser in the bedroom, so you have more overall space for other items.
Remember to Declutter Once a Year
One of the best ways to ensure you aren't running too low on space in your home is to commit to decluttering at least once a year.
You will want to go through all of the items that you don't need and don't use and get rid of them.
You could sell some of the items, give some away, donate them, or throw them away.
Doing this regularly can help to ensure that you don't pack your home to the brim with things you don't need.
Maybe You Really Do Need More Space; Time for an Addition or a New Home

If you find that you still need to have some extra space, maybe an addition is in order.
Others might realize that they need to have a larger home that can better accommodate their growing family.
Regardless, you will need to get in touch with Best Pro Builders.
Contact us today to learn more about what we can do for you.
Here at Best Pro Builders we offer a full range of professional construction services and solutions to fit virtually any need or budget. From full design/build services to installing that backyard patio and outdoor kitchen you've been dreaming of, you can trust our team to deliver.
No matter if you need construction, remodeling or some other home services, count on us to make your house a beautiful and real safe home!