Are you going to be constructing a new deck for your yard? Building a new deck, whether you are doing it on your own or you hire someone, can be a lot of fun. It also makes for a beautiful added space for your home, where you can enjoy spending time entertaining and relaxing with family and friends.
However, when you are getting ready to construct the deck, one of the first and more important things you have to consider is the type of wood you'll be using.
What's the best wood for deck construction?
If you ask several people, you will likely get several different answers to this question.
You will find many options that could be used for outdoor decks. However, different species will have different benefits and may have differing requirements for maintenance. You should also keep in mind that the availability of certain woods can vary by region. If you want to have wood that's not commonly available or shipped to your area, you will likely be paying a premium to have it delivered. The larger the deck, the greater the price, naturally.
Top Wood Options for Building a Deck
Consider your budget, where you live, and the overall look that you want, and it will become easier to make your choice. Below are some of the best woods for deck construction.
Cedar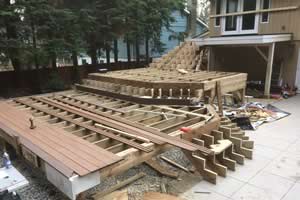 Cedar is always a popular option for a deck, and it has some nice benefits. For starters, it looks great. You can't go wrong with a cedar deck. It also happens to be durable, and it is resistant to moisture. If you live in an area where it rains and snows, then this could be a good option. Even if you live in a location that has less moisture, it can work well. This is because the moisture content of cedar can change and match its location.
Cedar is durable, too. It does not tend to crack, break, and warp easily. A cedar deck has the potential to last for up to 20 years without any problems. It is easy to stain, so you can get the look that you want and that matches your home whether you want something darker or lighter. These decks are usually simple to care for, as well. With pressure washing each year and staining every couple of years, it can continue to look great for a long time.
Southern Yellow Pine
Southern pine is another fine option to consider. This is a beautiful wood that can work well for decks because of its strength and durability. Another benefit is that it is environmentally friendly. This type of wood, as well as Douglas Fir, discussed below, is often available as pressure-treated wood. This helps to add more strength and durability. It also means that the wood is resistant to rot and insects. Many people are choosing to use pressure-treated options because they tend to be less expensive, as well.
Douglas Fir
As mentioned, Douglas Fir can be pressure-treated, as well. Even when it isn't, the wood can be a good choice for deck construction. It is strong and aesthetically pleasing. It handles well whether you are using power tools or hand tools. When it's been pressure-treated, it has some of the same benefits that you will find with southern yellow pine that's been treated. Namely, it becomes resistant to mold, termites, and rot.
Redwood
Redwood is a beautiful, albeit expensive, option that you may want to consider for your deck. It is a popular option when it comes to deck construction, and it has benefits similar to cedar. It is resistant to insects, rot, and moisture naturally, like cedar. The tannins in the wood provide those resistances. Interestingly, those tannins also provide the beauty of redwood that everyone loves.
This is a strong wood that can last for many years without problems, and it has a gorgeous natural look. Keep in mind that you will need to care for this similar to how you would cedar. It will need to be pressure washed annually, and it should be stained every two years or so.
Mahogany
If you want hardwood from the tropics for your deck, mahogany is a good option. However, it also happens to be an expensive option. Because the wood is from the tropics, though, it does mean that it will be naturally resistant to moisture. It is also resistant to warping and insects.
Construction with mahogany, as well as other tropical hardwoods, tends to be somewhat more difficult, though, and they are not easily accessible. It may be difficult to find enough wood to complete your deck if you are only looking in your area. You may have to spend a bit more and have it transported to you. If you don't have a budget that you have to follow, it might be a great option.
Should You Consider Composite Wood?
Composite wood is becoming popular, but you have to realize that this is not actually wood.
Composite wood is made from plastic with wood fibers and is given a wooden appearance.
If you want a real wooden deck, you will want to look elsewhere. However, composite does have some advantages.
It tends to be affordable, and there is very little maintenance needed. Since they are made from plastic, they don't require staining and they don't need to be cleaned as often. It just doesn't have the same look and feel as wood, and there is the potential for it to get hot in the sun and slippery when it rains.
What's Right Wood for Your Deck?
The right wood for your deck will depend on your aesthetic desires and your budget, in most cases. Take the time to think about the wood discussed above and how it might work in your yard. Check out the options described above and check out photos of decks made from these types of wood. This will give you a better sense of everything that's possible.
At BEST PRO BUILDERS we work with deck construction and a full range of professional construction services. From full design/build services to installing that backyard patio and outdoor kitchen you've been dreaming of, you can trust our team to deliver.
No matter if you need construction, remodeling or some other home services, count on us to make an amazing wooden deck.