We all love to have a clean house, but most of us aren't particularly fond of cleaning.
However, with some simple tips, you will find that keeping the home looking great is possible.
You just need to be willing to put in the time.
Make an Attack Plan
First, it's always good to have an action plan before getting started.
Write down everything that needs to be done on a daily and weekly basis and then determine how and when you are going to start cleaning.
Some people prefer to clean a bit every day. Others may like to spend a few hours each weekend getting the house back in order.
You need to find a timetable that works well for you and then stick to it.
Keep Cleaning Supplies Available
Always have plenty of cleaning supplies on hand and ready to go.
You don't want to give yourself an excuse to avoid cleaning by not having your supplies available.
You don't need much, but make sure you don't run out of things like cleaning cloths, paper towels, toilet cleaner, window cleaner, etc.
When you are running low, add it to your grocery list.
Clean from Top to Bottom
What should you clean first?
Instead of tackling the floors, it's better to start high and work low.
Dust the blinds and the walls and follow that up by dusting dressers, nightstands, coffee tables, etc.
When you clean top to bottom, any of the dust or dirt that you don't get settles onto the floor.
Making vacuuming and mopping the last thing you do can help to ensure a cleaner home.
The Whole House Approach

One of the mistakes a lot of people make when cleaning their home is doing one room at a time.
This approach often makes it feel as though you aren't getting anywhere.
Instead, choose one task, such as cleaning your blinds. Then, go through each room of your house that has blinds and dust and clean them.
Once you have finished that task, you can move on to something else. Again, do it for the entire house rather than one room at a time.
Remember to work from top to bottom in the rooms, as this often provides the best results
Typically, the last thing you will clean across the house will be the floors
This might include sweeping, mopping, or vacuuming depending on the room and your flooring.
Keep It Clean
One of the best ways to reduce the amount you have to handle on cleaning day is by keeping up with basic cleaning.
Make sure you don't leave clutter on the tables and wipe down the counters after cooking and again after doing the dishes.
A little bit each day, as you are going about your normal routine, will cut down on the amount of work that needs to be done later.
Make Life Easier by Hiring a Professional Service
Of course, you might find that you don't have the time to devote to cleaning your home from top to bottom.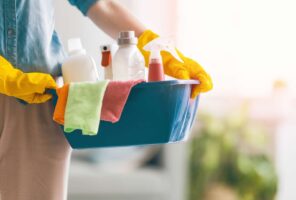 You can do the basics, but a lot of the housework simply starts to get away from you.
Fortunately, there is a solution.
You can hire a cleaning service that will handle all of the tasks you don't have the time to do or that you don't want to do.
Consider hiring them once a week, or even just once a month.
You will find that professionals can clean your home quickly and efficiently, so you can spend more of your time doing things you enjoy.
At BEST PRO BUILDERS, we offer a full range of professional cleaning services for homes, offices, and other environments. Our skilled team of cleaning experts is equipped to handle all your cleaning needs, leaving your spaces spotless and refreshed.
You can trust us to provide thorough and efficient cleaning services to make your home or office a pristine and welcoming environment. Count on BEST PRO BUILDERS for all your cleaning needs and experience the highest level of cleanliness and satisfaction.