Are you tired of spending so much time trying to keep your home clean?
It's a lot of work, and you may find that it is easy to start falling behind on the upkeep.
After all, you have to think about work and other obligations, not just whether you have time to vacuum.
Many people have found that hiring a professional cleaning service is the solution, and it could be right for you, too.
Let's look at some of the main benefits of getting help from experts in the field.
Spend Time Doing Things Other Than Cleaning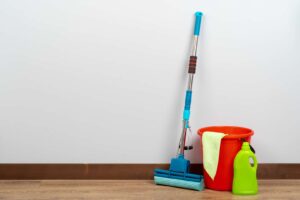 Let's be honest. The last thing you want to do when you come home after work is clean your house.
You don't want to spend your weekend cleaning when you could instead be out enjoying your life.
Hiring a cleaning service will ensure you have more free time to spend however you would like.
Even if you are only spending two hours a week cleaning, this adds up to 104 hours per year.
Don't you think you have some better things you could do with all of those hours?
You could head out to the movies, have a meal, work on some hobbies, etc.
No Need to Buy Cleaning Supplies and Products
How much are you spending on cleaning supplies and products each month?
You may be spending more than you realize. Not only that, but they tend to take up a lot of space in your house.
Cleaning companies typically have all of their own cleaning supplies.
This means you won't have to keep stocking them in your house, which can free up some space.
It also cuts down on some of your monthly expenses, which can help to justify paying for cleaning services.
All the Hard to Clean Areas Will Be Spotless
When you are cleaning the house now, are there certain areas that you conveniently "forget" to clean?
Maybe it's the blinds or the windows. It might be the top of the refrigerator or the grout in the second bathroom.
Regardless, it's probably not getting cleaned properly, if at all. Over time, it's just going to keep getting worse.
When you hire a cleaning service, they will clean even the spots that you hate to clean.
For a lot of people, this is reason enough to work with a professional cleaning company.
Create a Cleaning Schedule that Works for You
When you hire a cleaning company, you can set up a cleaning schedule that will work for your needs.
This might mean having a cleaner come in once or twice a week to tidy up, weekly for a full cleaning, or monthly for deep cleaning, for example.
You should have a good idea of just how much cleaning help you need.
Find a company that can provide the types of cleaning service you need on the days you require.
It Is Time for a Truly Clean, Beautiful Home
Now that you can see some of the biggest benefits that come from working with a cleaning service, it's time to hire one.
Check to see what sorts of services they offer, whether they supply their own products, and what type of schedule you can set up.
Once you start working with a great cleaner, you will wonder how you ever go along without them.
Just make sure you are choosing a great company for your cleaning needs.
A little research into the business, the services they offer, and the prices will go a long way in helping you make a good decision.
At BEST PRO BUILDERS, we offer a full range of professional cleaning services for homes, offices, and other environments. Our skilled team of cleaning experts is equipped to handle all your cleaning needs, leaving your spaces spotless and refreshed.
You can trust us to provide thorough and efficient cleaning services to make your home or office a pristine and welcoming environment. Count on BEST PRO BUILDERS for all your cleaning needs and experience the highest level of cleanliness and satisfaction.