There is no shortage of homeowners who wish they had a larger bathroom space. Unless you want to work with the BEST PRO BUILDERS on major renovations, you need to work to improve the space in another way.
The good news is that there is no shortage of ideas to improve your bathroom space.
Aside from turning to the pros at BEST PRO BUILDERS, here are a few helpful tips in particular that can give you better use of the space that you have.
Fixture Size Matters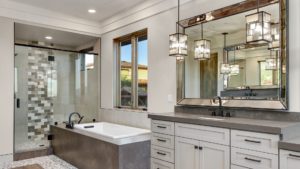 Improving your bathroom space can come down to a plethora of smaller changes.
Making a few things smaller, it can make the space feel larger as a whole. Look to your fixtures to save a little bit of space here and there.
There are a ton of different options available for sinks, bathtubs, toilets, and showers.
If you feel like things are a bit too cluttered in your space, try swapping those out with a smaller, more efficient model.
Finding beautiful fixtures that don't take up nearly as much space can help to make the room feel bigger.
Glass Showers/Enclosures
Glass can be a great way to not only improve the perceived space but to add an air of luxury as well.
Shower curtains might be cheaper, but they also look cheaper and create a clear separation between your shower and the rest of the room.
With glass, it creates that subtle divider that makes the space feel bigger and more open.
Even frosted glass can lend to this appeal.
Remember: it is not about necessarily adding space to the room so much as creating the illusion that it is bigger.
Mirrors are Your Friend
To play off the last point a bit, glass – namely mirrors – can be hugely beneficial.
Vanity mirrors, in particular, can play a couple of roles. For one, they can fill wall space, even having a decorative frame added to them.
Even better, they reflect light. The more natural light in the room, the larger it can look.
With the mirror bouncing that light around, it can give your bathroom the feel of being much larger than it actually is. Mirrors come in all shapes, sizes, and styles to allow you to create your own interesting aesthetic.
Utilize Vertical Space
One of the biggest mistakes that homeowners make with their bathrooms is not utilizing all of the available space.
Vertical storage can be a great way to utilize the space without filling up the horizontal space and making it feel too crowded.
Whether it be toiletries, towels, cleaners, sprays, or even decorations, you can add vertical height to the room without taking up space elsewhere. It works to provide better storage options while also making the bathroom feel larger.
Storage, in particular, can be at a premium in smaller bathroom spaces.
Implementing vertical storage space can solve two problems at once and make your bathroom feel larger. Implementing vertical storage space can solve two problems at once and make your bathroom feel larger.
Final Thoughts
While renovations might be the only way to actually increase the amount of space in your bathroom, they can also be quite expensive.
For those who need to work with a tighter budget, implementing the right improvements can help. As can calling BEST PRO BUILDERS.
Whether it be smaller fixtures, lighter colors, or improved storage options, these small changes can help.
In the end, you can make the most out of your bathroom space and help it to feel less cluttered without having to tear anything out.