One of the worst parts about cleaning your home is trying to get into those areas that are out of the way and difficult to reach.
This includes places like behind the toilets, the top of ceiling fans, the upper corners of rooms where cobwebs dwell, and on the top of cabinets and the fridge.
Some people neglect to clean these areas because they have such a hard time getting to them.
Others climb up on chairs and try to reach them, which could lead to falls and injuries.
While you might be tempted to just ignore some of those hard-to-reach areas, that's not a good idea either.
It will only be more difficult to clean later. Fortunately, these tips and advice can help.
Get Better Tools
You can find a range of cleaning tools online that can help to extend your reach and make it easier to clean ceiling fans, the tops of blinds, and other areas.
Extending wands, blind brushes, and vent brushes are popular.
There are also tools that you can use to reach behind the toilet, the space between the fridge and the cabinets, and more.
Consider the areas of your home that you have trouble reaching and then select a variety of tools that will make cleaning easier.
Even though there may be some cost at the outset to buy these tools, they will make cleaning easier and less time-consuming. Most will find that they are worth it.
When it comes to reaching higher areas in the home, you will want to have a high-quality, sturdy stepstool designed for that purpose.
Don't climb onto kitchen chairs or the arms of the couch to reach areas.
If there are still areas that are out of reach, don't lean or stretch to try to get to them.
Utilize the Tools You Have
If you have a decent vacuum cleaner, there's a good chance you have some attachments that can help you to reach the higher areas of the room.
The attachments you already have could be long enough that you can get into the corners of rooms, crevices in your furniture, and the space between pieces of heavy furniture.
Get People to Help
You should also try to enlist others to help you with cleaning those places.
Taller family members may have an easier time for some out-of-reach locations.
You can have friends or family help you move furniture, so you can clean beneath it.
A little aid can make quick work of cleaning even difficult spaces.
Cleaning the Top of the Refrigerator
One of the spots in the home that often gets forgotten because it is out of sight and difficult to reach is the top of the fridge.
This area collects a substantial amount of dirt and grime.
Because you are cooking in the kitchen, it can cause a sticky, greasy film to develop on top of the fridge that is difficult to clean.
Use a step stool to get a better vantage point.
Remove everything from the top of the fridge and then use some grease-cutting dish soap and water to scrub away the grime.
If you commit to doing this about once a month, you will find that it won't get too bad and will be easier to clean.
Hire Professionals for the Tough Spots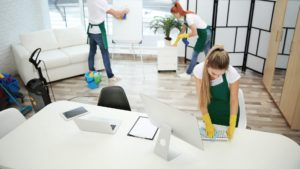 Even when you have some good tips and the right tools, there may still be parts of the home that you can't reach comfortably.
Instead of trying to do this on your own or putting yourself at risk of falling, hire cleaning specialists to take care of it all for you.
At BEST PRO BUILDERS, we offer a full range of professional cleaning services for homes, offices, and other environments. Our skilled team of cleaning experts is equipped to handle all your cleaning needs, leaving your spaces spotless and refreshed.
You can trust us to provide thorough and efficient cleaning services to make your home or office a pristine and welcoming environment. Count on BEST PRO BUILDERS for all your cleaning needs and experience the highest level of cleanliness and satisfaction.