Keeping the house clean requires the right cleaning products.
Maybe you are restocking your supplies and are looking for some better products, or you are moving into a new home and want to get everything you need before you need it.
Regardless, you will find a list of some of the best cleaning products to have for the various rooms in your house below.
The Kitchen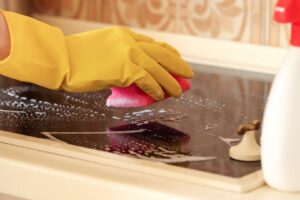 In your kitchen, you should have an all-purpose cleaner that you can use for any surface including the countertops, the refrigerator, and even your garbage can.
One popular option is Mr. Clean, which has a range of cleaners with various scents.
You will also want to invest in a good oven cleaner. One of the most popular and effective options is Easy-Off, which can work wonders on ovens, broilers, broiler pans, oven doors, and other surfaces.
Degreasers like Krud Kutter can help to remove grease from the top of the stove, as well as the top of the refrigerator, which gets far dirtier than you might expect.
When you are cooking, the grease settles on top of the fridge and creates a sticky film that's difficult to remove with just water and other cleaners.
A good degreaser will go a long way in keeping the kitchen clean.
The Bathroom
In the bathroom, you will need to have some good tile and grout cleaner, such as Scrubbing Bubbles.
Good acid-based cleaners work nicely to help remove grime and soap buildup on the tub, shower, sink, and floors.
Glass cleaners, such as Windex, are important in the bathroom too.
You will use these for glass shower enclosures, as well as mirrors.
To help keep the toilet free from hard water stains and similar issues, consider getting a toilet pumice stone cleaner.
They don't leave behind stains or residue, and you can use them on sinks, tiles, and other areas of the bathroom without worry.
The Living Room and Bedrooms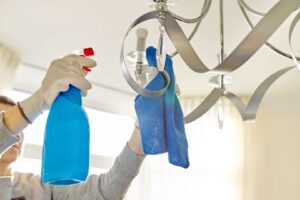 You likely have some items you need to keep polished and dust free in your living room and bedrooms.
In addition to cloths and tools for dusting, discussed in the next section, you should consider some good polish for wooden furniture, such as dressers, coffee tables, and end tables.
Pledge is a popular option for dusting and polishing that's been trusted for many decades.
If you have carpeting, consider some carpet powder to help keep the rooms smelling fresh. Arm & Hammer has some good products in a range of scents.
Essentials Used in Multiple Rooms
The products discussed above work well in specific rooms, but they aren't the only items you will need to keep your house clean.
You also need certain products that are essential to helping keep multiple rooms of the house looking great.
A good vacuum cleaner is vital for any home that has carpeting.
You would use this in places like the bedrooms, living room, hallways, stairs, and other rooms and spaces with carpeting.
A mop is essential for cleaning the kitchen floors, the bathroom floors, and any other space with tile or linoleum.
However, you may want to have a separate mop for the bathroom, just to reduce the spread of germs.
You will also want to have microfiber dusters.
Hand cloths, as well as microfiber wands, are great for removing dust from any room in the home.
Hire Professional Cleaners Who Have Supplies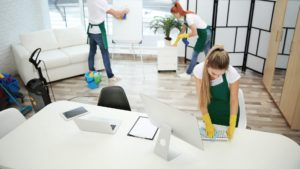 If you don't want to have to buy and keep all of these products on hand all the time, consider hiring a cleaning service.
They will typically have their own cleaning products that they prefer and have found helpful in their work.
At BEST PRO BUILDERS, we understand the importance of maintaining clean and sanitary environments, which is why we use a wide range of high-quality cleaning products in our services. Our team of skilled professionals is equipped with effective and eco-friendly cleaning solutions designed to tackle different cleaning tasks in various settings.
From powerful cleaners for heavy-duty cleaning to gentle yet effective options for everyday use, we carefully select and use the right cleaning products to meet the specific needs of each project. You can trust us to utilize the best cleaning products available, ensuring that your space is left spotless and inviting.
Choose BEST PRO BUILDERS for all your cleaning needs and experience the difference that our expertise and top-notch cleaning products can make in keeping your environments clean and fresh.