When it comes to our homes, we might gloss over how the color and finish of the paint on our walls affect our daily lives. Colors, textures, and sheen all affect the mood of a room, and a new clean paint job can make a room more welcoming and brighter almost instantly. If you've recently moved into a new home and want to add more personality to your space, or if you've been living in the same place for a while, a fresh coat of paint can completely rejuvenate a room.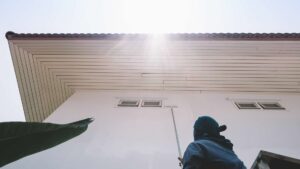 Interior walls aren't the only place where you may have a painting project, though. You may want to repaint the exterior of your home, refresh your deck or a wooden fence with a new finish, your front door may need some TLC, or your cabinets may be due for a new look—there are a lot of possibilities!
However, each of these projects can be a bit overwhelming, especially if you're an inexperienced painter. You might have been thinking for a while now that there are areas on your property that need a touch of paint to look their best, but it might be difficult to find the time and energy to do it yourself. Not to mention doing a large painting project yourself can be very stressful, especially if you're looking to touch up the façade of your entire house.
By reaching out to a professional team, like one that can be provided through BEST PRO BUILDERS, you can save a lot of time and hassle, along with guaranteeing that your painting project is done well.
Benefits of Going Professional
There are myriads of benefits to be received when you hire a professional team to complete your paint job instead of doing it yourself.
Whether you're trying to update your house before listing it on the market—or just ready for some new paint in a home you love—a professional team will be sure to take special care of your property. A professional painting team knows how to handle all kinds of projects and surfaces, always giving you the highest-quality final product possible.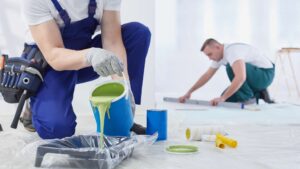 Some surfaces, like doors, decks, cabinets, or furniture, need to be treated and sanded before painting can begin, and we make sure that all paint is properly applied to whatever surface you need.
In rooms like bathrooms and kitchens, we make sure the surface is clean and smooth before applying any paint to your walls.
When you hire a painting team, know that you can focus on the parts of the job that matter to you and not worry about the stress of getting down and dirty. You should think about the color and sheen you want in which rooms and note which paints are best for the surfaces you want to revive. Plus, if you feel overwhelmed or are inexperienced in the realm of interior or exterior painting, a qualified contractor can always provide recommendations and helpful tips if you need them.
When it comes down to it, a room that is well painted just feels better. Clean paintwork is striking to look at and you won't be left with any unsightly spills or blots where paint isn't supposed to be when you hire a professional.
What Happens When You Hire Us
Our team of painters is ready to come into your home with all the knowledge and skills necessary to make sure your job is done well and fast.
A professional team comes with all the tools and skills necessary to take on your project. No need to get frustrated looking up how-to videos or feel underwhelmed by your final product when you hire a skilled team to do it for you.
While it may seem more expensive to hire a painting team instead of just doing the project yourself, after you begin to add up the price of all the equipment you'll likely need to buy to do the project, added with the time commitment and the stress, a team becomes well worth the cost.
It's also important to remember that all painting jobs take a good deal of preparation and that the space you intend to paint may be completely unusable for several days as the paint is applied. Our team of painters will ensure that your floors and furniture are well protected by tarps and that your baseboards, trims, along with your door and window frames are all taped off before the project begins.
Know that it was Done Right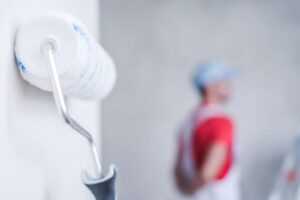 A novice painter can have difficulties completing a large project on their own.
Even when a homeowner is working with a small team of family and friends, it can take a week or more to complete a large project. This extra time is cutting off your space for longer than necessary.
Not to mention, you'll have to buy tools, tarps, brushes, cleaning supplies, or even sanding paper, and after the job is done you'll have to store all these excess materials which you may not ever need again.
Also, a novice paint job may need several touch-ups, which adds even more time and stress to your project.
When you hire a professional team, let the worries of a large painting project melt away and instead get to enjoying your renewed space faster.
Think of Us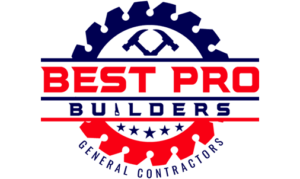 If you've been considering changing up the paint in your house or redoing the exterior of your home, many resources on our site can help you do it yourself and be impressed with the quality of your DIY project.
But you, like many others, may be too busy to set aside the time needed for completing the home renovations you dream about.
Worry-no-more, you can always count on us to do the job for you!
Here at BEST PRO BUILDERS, we work to offer you a range of professional construction services that can fit nearly any need or budget.
It doesn't matter if you're looking for help doing a full re-design of your property, are looking into remodeling, or have some other home service need, we can help! Call us, and let us make your home improvement dreams come true.